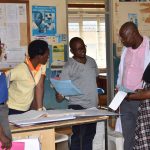 Women with Disabilities have cause to Smile as Kamuli District makes the first step to fulfill the commitment to provide Adjustable Labour Beds - A success story of Mbulamuti Health III.,
Access to disability friendly SRH services continues to be a challenge in most Health Facilities in Uganda in general and Kamuli district in particular. This is further worsened by limited data on women and girls with disabilities who seek health services. This is partly because the people who enter data in the HMIS form 105 (OPD Register) do not enter information on disability; secondly the registers at other service centres (MCH, ART and HCT clinics) have no provision for capturing disability data. This does not only negatively affect planning but also limits evidence-based advocacy for inclusive SRH services for Women and Girls with Disabilities. This led to commitment by the different duty bearers to work towards making SRH services and information accessible to women and girls with disabilities. As a result, Mbulamuti HC III secured 1 adjustable delivery bed and 2 adjustable beds from KOICA and Kamuli General Hospital constructed an access ramp at the main entrance to the Administration Block. Different sub counties have included a vote for SRH services for Women and Girls with Disabilities in their work plans and budgets.With support from AmplifyChange, IDIWA engaged with various stakeholders at different levels to address the above challenges. These included the District Health Office, Chief Administrative Officer, Senior Administrative Secretaries, Health Facility in charges, Community Development Officers and the private sector. In addition, IDIWA in collaboration with the Health Facilities developed and disseminated a customized data collection tool for capturing women and girls with disabilities accessing sexual and reproductive health services and information and health workers have been oriented on the use of this tool. IDIWA believes that tool will go a long way in generating data on the number of Women and Girls accessing different health services including SRH that will guide planning at different levels. The Medical Superintendent of Kamuli General Hospital, Dr. Atuma Zaidi commended IDIWA for the good work of advocating for the rights of marginalized people especially Women and Girls with Disabilities in Kamuli. He committed to prioritizing WGDs issues in SRH service delivery. IDIWA is grateful to Kamuli District Local Government for cordial working relationship that enabled realization of the above results. We remain committed to empowering vulnerable groups to maximize their potential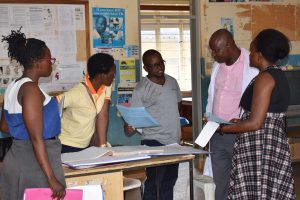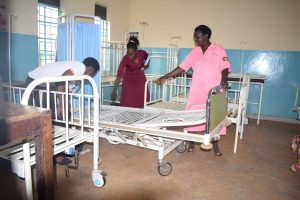 [caption id="attachment_1201" align="alignnone" width="337"]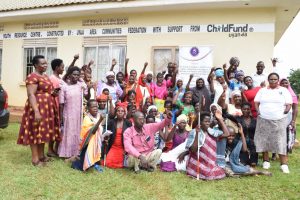 Executive Director(1st from left) with some of the beneficiaries after the training[/caption] [caption id="attachment_1202" align="alignnone" width="329"]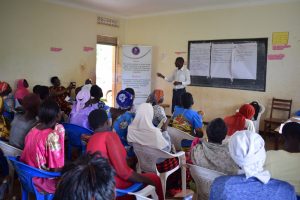 LC 1 chairperson encouraging beneficiaries to have a common voice while giving his remarks[/caption] The feeling of being Equal to others is still a big puzzle for Women and Girls with Disabilities -WGDs. This is mainly due a number of challenges they face on a daily basis, including negative attitudes, discrimination, isolation and exclusion from family and community activities, all of which tantamount to abuse and violation of human rights. IDIWA is constantly looking at innovative and creativity to be able to support her members in a changing environment. IDIWA is currently training WGDs in Human rights and advocacy to enhance their understanding and appreciation of their rights, and how to individually and collectively use them to demand for protection. WGDs demonstrated learning by sharing their life stories and intersecting disability and disparities, in relation to the legal frameworks and SGBV services during the training. The beginning was tough; WGDs confessed "we have been ignorant of various forms of violence, how to handle and where to report cases. We now have the confidence to what we go through every day. We had been forced to think that nothing can be done in the face of abuse, inhuman and degrading treatment of WGD; we resorted to working and taking care of our children. Our spouses do not want to identify with us in public, and deny responsibility of fathering children with us. Our parents deny us the right to inherit land just like our siblings; we don't own what we produce because we the land belongs to family members and spouses……….. WGDs lamented as they shared life stories. It was a touching moment, with a sense of guilt. They should have fought for their rights, only if they had the information they had just received. The human rights and advocacy training came with a ray of hope. WGDs for the first time felt energized to go out and demand for services from duty bearers. They were encouraged them to build strong relationships and understanding with duty bearers in their advocacy efforts, always stand up for human rights and act as focal point persons for other WGDs.